Red Flags
Fortune, Oct. 12,2022
By Chloe Berger
[P]rofessor and author Tamar Frankel told Fortune. "There is always a smell of illegality, persistent but subtle enough that people are willing to overlook it in order to get at the financial returns."
Excellence in Compliance Awards
Conviction, moral fortitude define Lifetime Achievement winner Tamar Frankel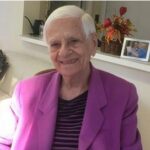 Upon meeting Tamar Frankel, two palpable features strike the senses. One is a deep well of kindness behind her eyes. The other is a formidable air of intelligence. When she speaks, the listener is rewarded with a generous helping of profound knowledge.
Celebrating an Important Woman in ICANN's History
March 7,2022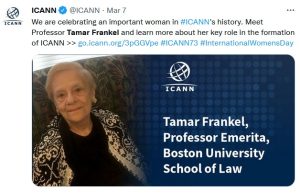 From the story:
"Ahead of International Women's Day tomorrow, ICANN is celebrating an inspiring woman who played a key role in the formation of ICANN and the creation of the multistakeholder model. … Professor Frankel also played a key role in establishing ICANN. In 1998, the U.S. Department of Commerce issued a White Paper that proposed transferring the management of the Internet to a nongovernmental entity. In response, a host of businesses, governments, and technical experts from around the world formed the International Forum on the White Paper (IFWP) to devise a plan that satisfied the government's requirements."
Available in multiple languages.
2022 Independent Press Award Distinguished Favorites
Just announced, March 7, 2022.
Living in Different Cultures by Tamar Frankel has been selected for inclusion in the 2022 Independent Press Award Distinguished Favorites.
Professor Emerita, Tamar Frankel, Urges SEC Chairman Gensler: Make it clear RIAs can say 'We are fiduciaries' on CRS!
By The Institute, January 28, 2022
Boston University Professor of Law Emerita, Tamar Frankel, who is often revered as "The Godmother of Fiduciary Law" by her peers and students, recently penned a letter to SEC Chairman Gary Gensler. In it, Frankel speaks directly and forthrightly. At one point she says, "The assumption that the fiduciary responsibilities are 'confusing' to RIAs is astounding . . . No practicing RIA could have started, let alone continued practicing, without a very clear understanding of [the Advisers Act of 1940] and its detailed interpretation."
'Seductive charm': There's a surprising thread linking Ponzi, Madoff, and today's brazen crypto scammers
By Eric J. Lyman
Fortune, April 19, 2021
"'I don't know if the Internet makes things easier or harder for con artists, because people don't change,' Frankel said. 'Some people are always on the lookout for easy money, but it's not necessarily about money. They always want to feel like they are special, that they're in on a secret, that they are part of an exclusive group, and for that, they are willing to overlook the warning signs.'"
Ron Rhoades Honored for Work as Fiduciary Advocate
Financial Advisor, September 29, 2020
Longtime fiduciary advocate Ron A. Rhoades will be honored for his decades of work advocating for the investor benefits of fiduciary advice today at an Institute for the Fiduciary Standard panel discussion focusing on the current status of the fiduciary debate in the face of frenetic regulatory and CFP Board changes.
Rhoades, an attorney and associate professor of finance and the director of the Personal Financial Planning Program at Western Kentucky University, will receive the Frankel Fiduciary Prize 2020 Award from the Institute, for his pro-fiduciary influence on both the industry and regulation, institute President Knut Rostad said in a statement.
Read more  at Financial Advisor
Dr. Ron A. Rhoades Receives 2020 Frankel Fiduciary Prize
News40, Marquee Broadcasting Inc., September 2, 2020
Dr. Rhoades is an Associate Professor of Finance and the Director of the Personal Financial Planning Program at Western Kentucky University. He is one of the most prolific authors of papers and comment letters on fiduciary duties for investment advisors and broker-dealers in this century. Over more than 30 years he has served on innumerable industry boards, commissions, and task forces to further fiduciary understanding.
Read more here at WNKY MeTV
Tamar Frankel:
State of The Union With The Godmother of Fiduciary
The Investors First Podcast, February 18, 2021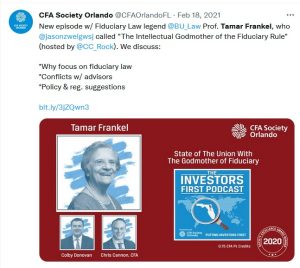 In today's episode, Tamar explains what led her to spend her career focusing on fiduciary law and what it means to be a fiduciary. We talk about conflicts of interest within the advisory space and what regulatory suggestions she has to help eliminate them. We spend a lot of time around soft topics like trust, honesty and kindness and why we would all benefit more if we focused more on those.
Tamar Frankel interviewed
about trust, culture, and conflicts of interest
Nicole Boyson
YouTube.com, June 30, 2020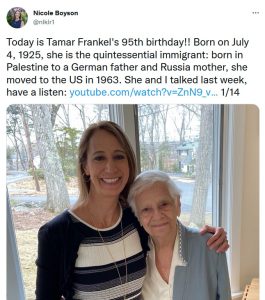 Listen to Tamar Frankel explain what fiduciary means.
"The Regulators' Conflicts of Interest" published in Advisor Perspectives
Advisor Perspectives, June 15, 2020
"A new SEC rule (Regulation Best Interest or "Reg BI") that takes effect June 30 will encourage the acceptance and transmission of conflicts of interest. This rulemaking is a historic, giant step backwards in securities regulation. It turns principles of advice in the client's best interest on its head. It is certain to undermine trust in financial advisors.
"Trust and honesty are crucial not only in finance, but to any relationship in which one party (dependent) entrusts to another party (trustee) power over the dependent party itself or over its interests."
Read the entire article by Tamar Frankel at Advisor Perspectives.
In Reg BI Revolt, RIA Trade Group Unveils 'Conflicts Can Be Deadly' Ad Campaign
By Tracey Long
Financial Advisor, June 19, 2020
A pro-fiduciary advisor trade group has unveiled a "Conflicts Are Deadly" ad campaign that, while referencing the Covid-19 epidemic, accuses the SEC of failing to mitigate costly broker-dealer conflicts of interest in its new Regulation Best Interest regulation.
"It is time for the commission to remember that it is the fiduciary of this country, its securities system and its citizens—investors. The commission is not an arbitrator among the conflicting parties in the market place," Frankel said at the press conference.
Next Generation Indie Book Awards 2020 Finalist
Tamar Frankel's Living in Different Cultures is recognized as a Finalist in the 2020 Next Generation Indie Book Awards category Autobiography/Biography. A complete list of honored books and authors is available here.
Do Financial Advisers Have to Act in Your Interest? Maybe
By Tara Siegel Bernard
New York Times, March 22, 2018
"Apply the same sort of rigor in your search for a financial adviser as you would when seeking a doctor or a lawyer, advised Tamar Frankel, a fiduciary expert and professor at Boston University School of Law. 'The rules do not do it now,' she said. 'So you have to do it now.'"
Tamar Frankel Fiduciary Prize Receives Joint Appointment
Markets Insider, Jan. 16, 2018
MIT Sloan School of Management and the MIT Media Lab today announce the joint appointment of Gary Gensler as Senior Advisor to the Director of the Media Lab and Senior Lecturer, MIT Sloan School of Management.

The 92-Year-Old Woman Who Is Still Shaking Up Wall Street
By Jason Zweig
Wall Street Journal, Dec. 2, 2017
Most people measure patience in hours, weeks or months. Tamar Frankel measures it in decades. Ms. Frankel, a law professor at Boston University, is the intellectual godmother of the fiduciary rule, a regulation from the U.S. Department of Labor requiring anyone being paid to provide investment advice …
Phyllis C. Borzi Receives 2106 Frankel Fiduciary Prize
Institute for the Fiduciary Standard, March 22, 2016
Phyllis C. Borzi, the 2016 recipient, was Assistant Secretary for Employee Benefits Security of the U.S. Department of Labor from 2009 to 2017. Prior to serving as Assistant Secretary, Borzi was of counsel to the Washington law firm of O'Donoghue & O'Donoghue LLP, specializing in ERISA and other legal issues affecting employee benefit plans. From 1979 to 1995, Borzi served as pension and employee benefit counsel for the U.S. House, Subcommittee, of the Committee on Education and Labor.
The Trump Campaign's Questionable Tax Return Justification
By Gretchen Morgenson
New York Times, Oct. 3, 2016
"But it is ridiculous to add the element of a fiduciary duty to a desire to reduce a personal tax bill, said Tamar Frankel, a professor at the Boston University School of Law.
"We don't owe a fiduciary duty to ourselves," Ms. Frankel said in an interview. "There is no such thing. We owe it to others whose money and power we hold for their benefit."
Vanguard, a Champion of Low Fees, Faces a Peculiar Tax Challenge
By Jeff Sommer
New York Times, Feb. 6, 2016
"'Vanguard was designed to eliminate conflicts of interest,' said Tamar Frankel, a professor of law at Boston University. 'That structure was also one of the ways in which Jack Bogle reduced the cost for investors, and it's been an absolutely great thing.'"
David Swensen Receives 2015 Frankel Fiduciary Prize
Institute for the Financial Standard, August 2015
David Swensen, the 2015 recipient, Yale University's Chief Investment Officer, oversees Yale's endowment and related assets. Prior to joining Yale in 1985, Mr. Swensen spent six years on Wall Street. Mr. Swensen authored Pioneering Portfolio Management: An Unconventional Approach to Institutional Investment and Unconventional Success: A Fundamental Approach to Personal Investment, by The Free Press.
Gary Gensler Receives 2104 Frankel Fiduciary Prize
Institute for the Fiduciary Standard, August 4, 2014
Gary Gensler, the 2014 recipient, was sworn in as the Chairman of the Commodity Futures Trading Commission on May 26, 2009. Chairman Gensler previously served at the U.S. Department of the Treasury as Under Secretary of Domestic Finance (1999-2001) and as Assistant Secretary of Financial Markets (1997-1999). He subsequently served as a Senior Advisor to the Chairman of the U.S. Senate Banking Committee, Senator Paul Sarbanes, on the Sarbanes-Oxley Act.
Exclusive Interview with Tamar Frankel: DOL Should Return to ERISA's Original Definition of Fiduciary
Fiduciary News, July 23, 2013
Just days ago, The Institute for the Fiduciary Standard announced Robert A. G. Monks as the first winner of the Frankel Fiduciary Prize. According to the press release issued by the Institute, the Frankel Fiduciary Prize, named for Professor Tamar 
Frankel, the Michaels Faculty Research Scholar at the Boston University School of Law, was established to acknowledge individuals who have made significant contributions to the preservation and advancement of fiduciary principles in public life. We are honored to feature Professor Frankel in this month's FiduciaryNews.com Exclusive Interview. … Read More.
Robert A. G. Monks Receives 2013 Frankel Fiduciary Prize
Institute for the Financial Standard, July 21, 2013
Robert A. G. Monks, the 2013 recipient, has been an outspoken advocate of stronger fiduciary duties and a prolific author on corporate governance over a long career. Monks was appointed a founding trustee of the Federal Employee Retirement System by President Reagan, and also served in the Department of Labor as Administrator of the Office of Pension and Welfare Benefit programs. He founded of Institutional Shareholder Services, and co-founded The Corporate Library (now Governance Metrics International). Monks founded the Hermes Lens Fund, and has served as a director of twelve publicly traded companies.
Read more here and watch videos.
More at Corporate Crime Reporter.
Tamar Frankel – Are you next victim of a Ponzi scheme?
Goldstein on Gelt, Sept 2012
What is a Ponzi scheme, and are you in danger of becoming the next victim? Find out by watching this great interview with Tamar Frankel, a Professor of Law at the Boston University School of Law and author of "The Ponzi Scheme Puzzle" and other important books.
Examining the Ponzi Scheme Through the Mind of the Con Artist
DealBook
New York Times, August 21, 2012
"Her conclusions will not comfort Ponzi victims; she faults them for their gullibility and failing to 'do their homework.' She finds, too, that society has a profound ambivalence toward con artists despite the vicious nature of their crimes — which, she notes, on rare occasions have even included murder."
Examining the Ponzi Scheme Through the Mind of the Con Artist
New York Times, August 20, 2012
Maybe "Ponzi scheme" should have its own spot in the Dewey Decimal System. Along with biographies of the schemers, a growing stack of scholarly references, legal tomes and articles aims to collect knowledge about this age-old crime.  …
"If you look at the history of successful human societies, two things are clear. One, you must have trust. Without it, society cannot succeed. At the same time, you must also be trustworthy," Tamar Frankel said.
Lawyer Limelight: Tamar Frankel
By John Ryan
LawDragon, 1/5/2012
On Oct. 29, Boston University School of Law is honoring law professor Tamar Frankel with a conference on The Role of Fiduciary Law and Trust in the 21st Century. …
Tamar Frankel says, "When "trust me" people threaten our economic and financial system because too many people do not take care of themselves against the "trust me" syndrome, our system and our culture are in danger. No longer can we wash our hands of homelessness and say: They got what they deserve. That may be absolutely true. But I do not want to live in a country with beggars who ask for food. That is why I would like the "trust me" people to be trustworthy. That means – fiduciaries"
Letters to the Editor re The Goldman Way
New York Times, Sept. 18, 2010
To the Editor:
Re "At Goldman, Partners Are Made, and Unmade" (front page, Sept. 13):
The Goldman de-partnering process presents a marvelous balance of conflicting interests. It protects both the egos of those who worked at Goldman (those not selected and those leaving) and the interests of the entity retaining the productive people and new talents while letting go the less productive.
It clearly rewards according to the success of the entire enterprise (not merely some) and tries to diffuse favoritism by dividing the decision-making among the groups. Yet it leaves a sufficient degree of competition to encourage better performance. This mix is the most impressive part of the program.
But this program is hard to emulate, because without the culture of commitment another balance must be achieved and less discretion would be given to decision makers. Rules that reduce the discretion would undermine the delicate balance. That may be why Goldman is unique.
Tamar Frankel
JPMorgan Penalized by Regulator in Britain
By Julia Werdigier
New York Times, June 3, 201
"'Even if it's an oversight, the fact that it's such a large amount and it went on for seven years makes me scared stiff,' said Tamar Frankel, a professor at Boston University's School of Law."
Struggling Over a Rule for Brokers
DealBook
New York Times, 2/16/2010
While most of the debate about financial overhaul legislation has focused on the impact on how big banks do business, one piece that would affect consumers directly has received little public notice: a requirement that stock and insurance brokers act in their customers' best interest. …
"Brokers would love to be called fiduciaries," said Tamar Frankel, a professor at Boston University School of Law. "That is not the issue. The issue is what stands behind it."
Top Woman in Wealth 2010
ThinkAdvisor, 2010
One of Wealth Manager's 50 Top Women in Wealth for 2010, Tamar Frankel has been in demand for decades as a top scholar in fiduciary law—perhaps never more than this past year, however, as the debate over whether brokers who provide advice should have fiduciary duty to their clients.  …
"What happens next is what is important, says Frankel: 'At that point the question is what a person does. A person may say 'I goofed, I didn't do it right, I'll return the money and that is it; I'll try again.' And some people say, 'Something will come around, I'm going to continue.' And it is at that point that it becomes a Ponzi scheme where the money of some investors is paid to other investors.'"
The Buck Starts Here: Professor Tamar Frankel on Ponzi Schemes
Boston University, 3/25/2009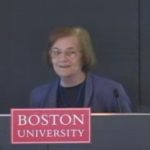 On March 25, 2009, BU Law professor Tamar Frankel discussed Ponzi schemes as a part of The Buck Starts Here series. View Here.
Crooks Send Out Monthly Statements, Too
By David Cay Johnston
New York Times, Feb. 25, 2009
"Tamar Frankel, who teaches securities law at Boston University School of Law, suggested two basic steps to reduce the risk of being taken in an investment scam.
"You should be asking yourself, 'Is my money with a registered investment company or mutual fund?' she said, because if it is, the risk of being scammed is very small, and 'if employees are pilfering, the firm will have insurance.'
"Her second point: 'Because we have such a mishmash of regulation, unless you are dealing with a big-name mutual fund you should ask for a statement from the bank that is the custodian' of the securities.
That Rush to Beat the Market
By M. P. Dunleavy
New York Times, April 11, 2009
"'People don't realize how much active funds cost them,' said Tamar Frankel, professor of law at Boston University School of Law. 'They might say, 'It cost 70 basis points, O.K.' But afterward they don't recognize that if it's charged every year, that's like compound interest. And if you keep a fund for 5 or 10 years, these fees matter a great deal.'"
Even Winners May Lose With Madoff
Alex Berenson
New York Times, Dec. 18, 2008
""In a Ponzi scheme, not all investors lose,' said Tamar Frankel, a law professor at Boston University who has written on Ponzi schemes. 'Those who manage to get out in time retain their investments and some of their gains.'"
Reserve Fund Gives Investors a Difficult Choice
Diana B. Henriques
New York Times, Nov. 5, 2008
""This is a very smart thing they have done,' said Tamar Frankel, a law professor at Boston University who has written extensively on mutual fund legal issues. 'It pours not only ice water but ice on any claims' by shareholders, she added.
"But if the fund's manager or trustees are to blame for the fund's current troubles, Frankel said, she is very skeptical that they will be allowed to tap shareholders' money for the legal bills."
Loan Reviewer Aiding Inquiry Into Big Banks
By Jenny Anderson< and Vikas Bajaj
New York Times, Jan. 27, 2008
"'The cooperation of compliance officers or due diligence firms is the best cooperation you can get,' said Tamar Frankel, a professor of securities law at Boston University."
If Everyone's Finger-Pointing, Who's to Blame?
By Vikas Bajaj
New York Times, Print Edition, Page C1, Jan. 22, 2008
"Everyone wants to know who is to blame for the losses paining Wall Street and homeowners. …"
A Tide of Lawsuits Approaches U.S. Mortgage Market
By Vikas Bajaj
New York Times, Print Edition, January 21, 2008
"'What strikes me here is that this a tainted system from A to Z,' said Tamar Frankel, a law professor at Boston University. 'Everybody blames everybody else. If you look at what is being said, there isn't one who doesn't blame another and there is half-truth in everything.'"
Lawyers Are Warned on Mutual Fund Roles
By Jonathan D. Glater
New York Times, Print Edition, Page C00006, Dec. 5, 2003
"'The whole tenor of his speech is, you are the law's gatekeeper," said Tamar Frankel, a law professor at Boston University. "You are public servants. You're not selling justice and you're not selling income-producing property. That means you have to tell the client sometimes: 'I know you want to do it, but you know something? You can't."'
Firm Pays Fund $1.6 Million After Investment Turns Sour
By Richard A. Oppel Jr.
New York Times, Print Edition, March 25, 1999, Page C00002
"Tamar Frankel, a professor of securities law at Boston University, said that as long as the private client was not an "affiliate" of Mr. Baron and the transaction was disclosed in the next report to fund shareholders, no securities laws were broken."
Organization Woman
By Scott Kirsner
Wired, Oct 1, 1998
"Law professor Tamar Frankel may not know much about IP assignments or network hosts, but she's got what it takes to untangle the Net's domain name mess. Don't ask Tamar Frankel to ping your server or debug your Perl. 'I'm not even close to being an expert on the Internet,' the Boston University law professor …"
Staking Claims to Net Domains
An ad hoc coalition is gathering to review the most recent policy paper by the United States on a new Internet domain-name authority

Wired, July 20, 1998
The meeting was coordinated with INET'98, the ISOC's eighth annual conference. Frode Greisen, managing director of Ebone, Inc., a Danish firm, will lead the meeting with Boston University law professor Tamar Frankel.
We, the People Of the Internet; Cybercitizens Debate How to Form On-Line Union, Perfect or Otherwise
By Amy Harmon
New York Times, Print Edition, June 29, 1998, Page D00001
"To such criticism, Ms. Frankel replies: "The issues now before the Internet are not technical. They are political, they are structural, they are organizational. What I find is that people who are tremendously sophisticated in the technical workings of the Internet are not necessarily knowledgeable in how to create an organization — especially one that has no clear model.""
Who Gets to Cut Domain Deck?
Into the vacuum left by the White House domain-name policy have rushed a crowd of Net "stakeholders" who want to have a hand in charting the name system's future. Several conferences are in the offing.
By Jennifer Sullivan and Dan Brekke
Wired, June 22, 1998
"But that's not the last word on the meetings. Over the weekend, another new group appeared to announce it will hold a domain confabulation at the same time and place — 1-2 July, at the Hyatt Regency in Reston, Virginia — and featuring the same keynote speaker — Boston University law professor Tamar Frankel –as the Global Incorporation Alliance Workshop."